Grandis Calliope
Signature 21 & 30

A quite unique loudspeakers
10th Anniversary Signature...


Enter the new Signature version, the culmination of everything we have learned about loudspeakers technology since we made our first loudspeaker in 1998.
To compare the Signature speakers to all other speakers design, like electrostatic, electrodynamic open baffle or bass reflex, they are the first speakers to get everything perfectly right. It's a one or two way speaker design with a 8" or 12" full-range and Twin tweeters in option. It features alnico magnet, a very ligth paper cone, anti-MDI voice coil and wire, 98 or 97db efficient and 16 ohms impedance. The cabinet, result of 10 years of research & development into side panel vibration, is made with our proprietary rigid & light panels design . The calculation of a new acoustic load, the best compromise between open baffle and bass reflex, is tuned with a measurement system and finalized by "ear", like a musical intrument. It's made with solid wood and an optional leather finish front panel. It features two adjustables ports, at the back and on the side, to optimize room placement and electronics matching. Finally, in option, the speaker cables with ground connector can be included and connected directly from the drivers to the amplifier. Like all the Calliope, the Signature are handmade, only made to order and meticulously constructed in our workshop.
●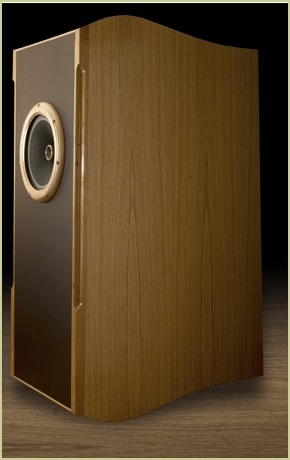 Grandis Signature :
- greater dimensions compared to the standard version
- front panel with beveled sides
- new decoupling of the front panel and weighing with sand for greater inertia
- adjustable rear door
- transducer internally locked in place to minimize back and forth movement of the assembly
- wood horn (tweeter)
- ground connector
- varnish quality
Options :
- speaker cables connected directly from the drivers to the amplifier without terminals
- brown or white leather
- bi-wire
●
●