P/P Mono Valve Amplifier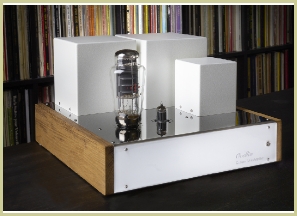 Ocellia's P-P amplifier is a pair of 300B push-pull mono block triode design. They have been engineered with a single purpose: the realistic reproduction of live music. We know that there are limitations to what kind of speakers can be used with 7 watts. Enter the P-P amplifier, with a higher power output, 15 Watts, it can be used with moderately efficient speakers. To this end no detail has been overlooked and Ocellia has truly created one of the world's finest valve amplifiers. Its design is simple, elegant and like all Ocellia products addresses various technical challenges facing the reproduction of recorded music. In this sense it perfectly complements our other products.
According to the rule book...

At the heart of the Quaero P-P amplifier is a direct coupled vacuum tube circuit, using exceptional 2C or 4C output transformers. It is built around the famous 300B triode valve, driven by one 5814A and one 12AU7 valve per channel, it is a very, very simple but very difficult to execute design!
To fight against the vibratory problems, the amplier chassis structure is made with wood combined with a special stainless steel and divided in different divisions to eliminate the disruptive effect of magnetic, mechanical and electrical fields for the critical aspects of the circuit, moreover, all the components are hard wired and oriented to limit interference.
Several types of noise and distortion are reduced with the use of the inside Ocellia mains conditioner.
The Quaero benefits from Ocellia's breakthrough research regarding the use of anti-MDI circuits andI components like, paper in oil capacitors, ceramic resistors, copper & silver wiring with mineral dielectric, high quality potentiometer, ceramic tubes sockets, silver connectors, etc. As expected only the highest quality parts are used throughout.
The 30 mm wood panels and mirror finished stainless steel cover perfectly match our other products. Words that come to mind: precise, smooth, solid, built for a lifetime. Sonically, aesthetically the Quaero is true high-end. All this combined with the extraordinary build and finish, brings you a valve amplifier like no other !
All Quaero electronics are handmade and meticulously constructed in our workshop, made only to order and carry a full five year parts & labour guarantee.