Stereo Valve Preamplifier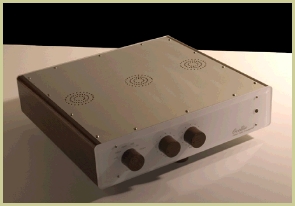 The Quaero represents the world's finest pre-amplifier. Its design is simple, elegant and like all Ocellia products addresses various technical challenges facing the reproduction of recorded music. In this sense it perfectly complements our other products. Thus, the challenge was to create a preamplifier, which maintains the integrity of the musical signal as well as providing convenience. For those music lovers who use analog recordings, we offer the preamplifier in phono stage version or line and phono stage version.

According to the rule book...

At the heart of the Quaero line or phono stage is a unique single-ended circuit, using the shortest possible signal path, which utilize a single NOS 6922 vacuum tube per channel, a very high quality double triode (New-Old-Stock military version)! It is a very, very simple but very difficult to execute design.
To fight against the vibratory problems, the preamplier chassis structure is made with wood combined with a special stainless steel and divided in different divisions to eliminate the disruptive effect of magnetic, mechanical and electrical fields for the critical aspects of the circuit, moreover, all the components are hard wired and oriented to limit interference. Several types of noise and distortion are reduced with the use of the inside Ocellia mains conditioner.
The Quaero benefits from Ocellia's breakthrough research regarding the use of anti-MDI circuits andI components like, paper in oil capacitors, ceramic resistors, copper & silver wiring with mineral dielectric, high quality potentiometer & selector, ceramic tubes sockets, silver connectors, etc. As expected only the highest quality parts are used throughout.
The 30 mm wood panels and mirror finished stainless steel cover perfectly match our other products. Simply rotating the high quality selector or the volume control is extremely satisfying. Words that come to mind: precise, smooth, solid, built for a lifetime. Sonically, aesthetically the Quaero is true high-end. All this combined with the extraordinary build and finish, brings you a valve preamplifier like no other !
All Quaero electronics are handmade and meticulously constructed in our workshop, made only to order and carry a full five year parts & labour guarantee.

• NOS high quality 6922 Triodes output
• Pure Class A operation
• Zero Negative Feedback
• Copper & silver wiring with mineral dielectric
• Anti-MDI circuits, components & wires
• 2 outputs & 6 inputs selector
• Dual mono volume control
• Internal polarity detector

Versions:
- phono stage
- line stage
- line passive

Options:
- Signature version
- 32 positions stepped silver Audio Attenuator
- Ocellia power cord