So, here we are, listening to Beethoven's Sonata #1 for Cello and Piano, played by Jacqueline Du Pre and Daniel Barenboim, an live recording by EMI made in 1976.
We are using the Metronome Kallista CD player, Tosca preamp and amp, and the Ocellia Grandis Calliope Twin, deemed to have a 97dB/m sensitivity and a 30Hz to 30Khz bandwith.
We are talking serious money here, so you expect serious results! And guess what, this was so far the most amazing HiFi experience of my life. I should actually say one of the most amazing musical experience ever! The thing is you didn't hear the equipment, just the music was flowing effortlessly and in a very concert like manner.
On this particular recording you had a sense of the venue, the audience, and the players were right there, playing with each other in a brotherly synergy. You could hear the hands on the keyboard, the bow on the cords of the cello, and the air in between resonating with the subtleties of the music...beautiful!
The coffee went almost cold, before we had a chance to extract ourselves from this sensational record!
We then listened to Patricia Barber, a Chicago-based jazz singer described by Bill Zehme of Esquire Magazine, as early as 1994, in these words: "Patricia Barber makes jazz the way Tiffany makes crystal -- sleek and smart and dazzling. You must hush the world when she plays and listen to that which no one ever thought to do before with notes, with voice, with style penultimate. She is, for my money, the best jazz performer currently working the planet".
Well, what a discovery: we listened to "Bye Bye Blackbird" and "Autumn Leaves" from her "Nightclub" CD, where piano, bass, drums and Patricia's voice, and its various intonations, proximity to the mike or breathing away from it, were perfectly "there". We could feel her presence, and all the tricks of the mixing deck in post-production...The balance of the whole band and Patricia's voice were particularly remarkable.
We then listened to TWO different versions of the "Four Seasons" both recordings with Nigel Kennedy.
I have one on EMI and English Chamber Orchestra, and JJC had that one plus another one with the Berliner Philarmoniker (plus another 25 versions of the Four Seasons, all catalogued on his MacBook Pro...more on this later). I just found a third version on Amazon...
Anyway, Nigel's violin playing is not for the faint hearted - actually I had the chance to attend one of his concerts at the Sydney Opera House: what a treat! (Let's have another song...).
Again all the intricacies of his virtuosity were there, raw for our ears, and no trace of sibilance, or other high frequencies nasties so common to even the best speakers on this sort of violin tunes.
We did also play a number of songs on the "Classique" turntable from Pierre riffaud, fitted with a Denon DL103 and fed to a Tosca phono stage, and then the same Tosca gear that was used with the Kallista CD player.
I cannot recall precisely what we listened to, but it was a combination of Jazz, male and female voices, probably some Mahler (we did listen to a lot of Mahler...).
Well, interestingly enough, I could not hear significant differences between CD and vinyl with these two set-ups. Sure, we didn't have the same music on both media, but we had similar kind of music and instrument combinations on both, and I am sure you couldn't tell the difference if blindfolded: quite an achievement...
By now, this excellent coffee IS cold, and JJC suggests we change speakers, which means going upstairs, where they are used in another room, and bringing them downstairs, which doesn't take my fancy...
Anyway, I am so curious to hear the"petites" Ocellias that I agree...
To my utter surprise, they are extremely light and quite easy to carry, if not for the narrow staircase!
Time for more photos: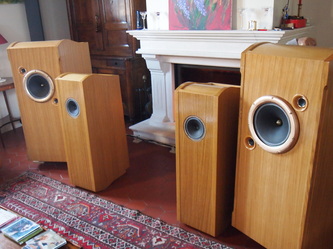 The smaller Calliope.16 has ONE full range 16cm driver made by PHY-HP, as all the drivers used in the Ocellia range. Again, specifications call for 97dB/W/m and a bandwith of only 50Hz to 16KHz...
It is wired with copper, where the Grandis, uses silver wiring, all this contributing to reducing the price considerably.
We listened to more music, some of the same as previously, but also some new ones like the Goldberg Variations of Bach, Simone Dinnerstein on the piano and a Telarc CD and more Mahler...
Well, what can I say?
Without splitting hair, my overall impression is that the petite Calliope is actually better than the Grandis.
The overall balance, the accuracy of the timbres, the absence of filter, all this contributes to a delightful performance, always sweet and accurate with plenty dynamic range.
At around a third of the price of the Grandis, this is certainly exceptional value, more WAF friendly and definitely right there with the sort of sound I like.
Now, we have not played any rock or pop, but even on large symphonic ensembles as in Mahler, there was no trace of distortion, perfect transients and an overall sense of space and being "there" with the orchestra, or a single jazz vocalist and a small formation. Great achievement.
was so enthralled by the music we played than my host had to bring me back to reality around 6.30pm, as my flight back to Australia was due to depart at 10.15, and I was supposedly a good 90mm away from CDG!
I did make it in time (It took me a mere 60mns to get there, as it is freeway all the way...) with plenty of time to check-in my baggage (thanks Emirates for not charging me excess...) and some quality time with Mum on the phone before leaving France.
The pleasure of this afternoon of music and Jean-Jacques's hospitality lingered with me all the way to Dubai, feeling like I was still on a little "nuage" populated with Nigel's violin acrobatics and Patricia's sexy voice, entre autres...